Mercedes Maybach electric SUV, concept, launch date, platform, features
Mercedes will unveil the first-ever electric Maybach, the EQS 680 SUV, at Auto Shanghai on April 17. Mercedes has teased an image of the brand-new EQS-based Maybach, however, it doesn't reveal much details. But Mercedes has stated that it is based on the technology offered on the EQS SUV currently in the manufacturer's line-up. 
Premiere at the 2023 Auto Shanghai in China
Current EQS 580 4Matic has a WLTP-certified range of up to 770km
Could be more powerful than the current EQS 580 SUV 
New Mercedes-Maybach EQS SUV details
In 2021, Mercedes unveiled the concept of an electric Maybach SUV at the Munich motor show. The concept featured a two-tone paint scheme with lavish interiors, the typical opulent Maybach treatment. The concept EV got monoblock wheels with Maybach branding across the exterior and interior of the car. Like all Maybachs, the three-person second-row bench seat gets replaced with roomy individual seats that come equipped with massage functions apart from heated neck pillows so that passengers feel refreshed during long journeys. 
As the Maybach EQS 580 will be based on the standard EQS SUV, expect it to come equipped with the massive 56-inch Hyperscreen that spans the width of the dashboard from the driver's side to the passenger side.
To be Positioned above the EQS 580 4Matic
The cream of the EQS SUV line-up is currently the EQS 580 4Matic, which comes with a four-wheel-drive system and a total power output of 550hp. The EQS is equipped with rear-wheel steering (up to 10 degrees) that helps the massive 5-metre SUV achieve a turning circle of about 11 metres and also facilitates greater stability when switching lanes during highway driving.
The SUV also has a WLTP-certified range of up to 770km. Mercedes has named its Maybach version the EQS 680 SUV, which implies that the car will get additional power from the existing 550hp on tap in the EQS 580.
Also see: 
Mercedes-Benz EQS review: Breaking the mould
Mercedes-Benz EQS 580 4Matic India review: Luxury EVs don't get better than this
Mercedes-Benz Cars
Mercedes-Benz A-class Hatchback
₹ 94.28 lakh
Mercedes-Benz A-Class Limousine
₹ 46.24 – 65.11 lakh
Mercedes-Benz C-Class
₹ 47.39 – 72.13 lakh
Mercedes-Benz E-Class
₹ 77.54 lakh – 1.03 crore
Mercedes-Benz EQB
₹ 85.60 lakh
Mercedes-Benz EQC
₹ 1.19 crore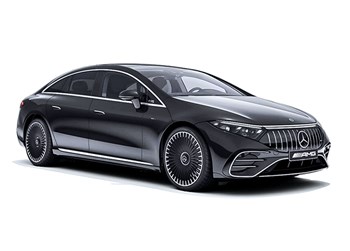 Mercedes-Benz EQS
₹ 1.77 – 2.81 crore
Mercedes-Benz G-Class
₹ 2.03 – 2.83 crore
Mercedes-Benz GLA
₹ 56.42 – 76.87 lakh
Mercedes-Benz GLC
₹ 61.08 – 68.30 lakh
Mercedes-Benz GLC Coupe
₹ 88.74 lakh
Mercedes-Benz GLE
₹ 91.31 lakh – 1.11 crore
Mercedes-Benz GLS
₹ 1.39 – 1.40 crore
Mercedes-Benz Maybach GLS
NA
Mercedes-Benz S-Class
₹ 1.84 – 1.86 crore
Mercedes-Benz GLE facelift image gallery
5309 Views|2 months ago
Mercedes overseas head Matthias Luhrs on best year in Ind…
721 Views|4 days ago
Mercedes-Benz S 680 Guard video review
6549 Views|24 days ago
Mercedes-AMG E 53 4Matic+ Cabriolet video review
4500 Views|2 months ago
Mercedes-Benz EQS 580 meets the S-Class video
3215 Views|2 months ago
Mercedes-Benz Vision EQXX walkaround video
4293 Views|3 months ago