Ever since it was launched in India, the Mahindra Scorpio has received a strong demand from customers. The new models of the Scorpio brand, the Scorpio Classic and Scorpio N, now see a drop in waiting periods since the last time we reported about it – the waiting periods are now all below a year. 
Scorpio Classic waiting periods drop to 4 months 
9 months waiting period for ESP-equipped variants of Scorpio N
Mahindra Scorpio N waiting period
In August, Mahindra stated that the company was operating at full capacity and the Scorpio models had the most pending bookings, with 1.17 lakh units yet to be delivered. 
Mahindra Scorpio N waiting periods October 2023
Petrol MT
Petrol AT
Diesel MT
Diesel AT
Z2
4-5 months
NA
5-6 months
NA
Z4
6-8 months
5-6 months
6-8 months
2-3 months
Z6
NA
NA
6-8 months
2-3 months
Z8
6-8 months
3-4 months
8-9 months
2-3 months
Z8L
5-6 months
2-3 months
6-8 months
1-2 months
ESP variants
9 months
9 months
9 months
9 months
The more expensive diesel automatic variants command a lower waiting period compared to the manual-equipped variants of the same, with the Z8 commanding a waiting period of eight to nine months. All 'E' variants of the Scorpio N that come with ESP have a uniform waiting period of nine months regardless of engine or gearbox selection. 
The Mahindra Scorpio N gets a choice of two engines, a 203hp, 2.0-litre turbo-petrol and a 175hp, 2.2-litre turbo-diesel engine. There is a 6-speed manual or automatic transmission on offer for both engines, however, only the diesel engines get the option of 4WD. Prices for the Scorpio N range from Rs 13.06 lakh to Rs 24.51 lakh. 
Mahindra Scorpio Classic waiting period 
The Scorpio Classic has seen a drop in the waiting period since May and currently stands at four months for both S and S11 variants. 
Mahindra Scorpio Classic waiting periods October 2023
Variant
Waiting period
S
4 months
S11
4 months
The Scorpio Classic is powered by a 2.2-litre diesel engine making 132hp and 300Nm. Paired with a 6-speed manual gearbox, the SUV misses out on an automatic gearbox and the 4×4 option that's available on the Scorpio N. Prices for the Scorpio Classic S start at Rs 13.25 lakh and the S11 starts at Rs 17.06 lakh. 
Image source
Also see: 
Mahindra order backlog currently stands at over 2.8 lakh SUVs
Mahindra unveils Scorpio N based pick up concept
Mahindra Scorpio N
₹ 14,87,070 * on road price (New Delhi)
Mahindra Scorpio N Global Pik Up concept image gallery
20490 Views|2 months ago
Mahindra Scorpio N vs Toyota Fortuner drag race
14728 Views|7 months ago
2022 Mahindra Scorpio N vs XUV700 comparison video
25162 Views|1 year ago
Autocar India Off-road Day 2022 video
20576 Views|1 year ago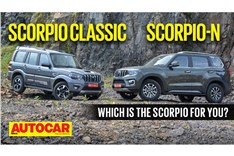 2022 Mahindra Scorpio N vs Scorpio Classic comparison video
17919 Views|1 year ago