The problem of plenty continues at Mahindra and with its popular models such as Thar, Scorpio N and the XUV700. Despite its manufacturing plant operating at nearly full capacity, the waiting period for the Thar extends up to a maximum of 15-16 months, especially for the 4×2 variants. This has remained unchanged from August 2023 when we reported on Mahindra's order backlog of over 2.8 lakh SUVs of which 68,000 bookings comprised the Thar with an average of 10,000 new bookings each month.
Thar 4×4 variants command up to 5-6 months waiting period
4×2 variants have up to 15-16 months of waiting period
Prices range between Rs 10.98 lakh-16.94 lakh
Mahindra Thar 4×2 waiting period
The Thar's diesel 4×2 variants have the maximum waiting period of 15-16 months for the two trims it's available on. The petrol 4×2 variants, meanwhile, have a much lower waiting period of about five months on average, although this too has gone up marginally over the last few months. The Thar 4×2 is only available with a hardtop.
The Thar 4×2 gets a 1.5-litre diesel engine that produces 118hp and 300Nm of torque. There is no automatic gearbox on this Thar diesel 4×2, but only a 6-speed manual gearbox. The petrol, 2.0-litre mStallion is carried over from the Thar 4×4 and this engine produces 152hp and 300Nm of torque with only a 6-speed torque converter automatic gearbox.
Prices for the Thar 4×2 range between Rs 10.98 lakh and Rs 13.77 lakh. This is considerably lower than the 4×4 models as the 2WD is categorised in the lower tax slab of sub-4m vehicles, and therefore, demand is also much higher. 
Mahindra Thar 4×4 waiting period
4×4 variants of the Thar command a waiting period of 5-6 months on average across all petrol, diesel, hardtop and soft-top variants – an increase of about two months from before.
The Thar 4×4 is available in two engine options: the 2.0-litre petrol mStallion mentioned above and a 2.2-litre diesel engine that produces 132hp and 300Nm of torque. Unlike the 2WD variants, the 4x4s come with the option for both 6-speed manual and automatic gearboxes. The Thar 4×4 also gets a manual-shift 4×4 transfer case, and some models have a manual-locking differential.
Prices for the Thar 4×4 currently range between Rs 14.04 lakh-16.27 lakh for the petrol, while the diesel variants are priced between Rs 14.60 lakh-16.94 lakh. (All prices ex-showroom, Delhi.)
Image Source 
Also See:
Tata Harrier, Safari facelift price announcement on October 17
Made-in-India Jimny 5-door exports commence
Mahindra Thar
₹ 11,08,300 * on road price (New Delhi)
Mahindra Thar.e image gallery
46556 Views|2 months ago
Mahindra Thar 2WD image gallery
44546 Views|9 months ago
Mahindra Thar.e design highlights with Pratap Bose video
4444 Views|2 months ago
Mahindra Thar.e concept walkaround video
6018 Views|2 months ago
Maruti Suzuki Jimny vs Mahindra Thar comparison video
39762 Views|2 months ago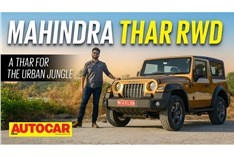 Mahindra Thar 4X2 video review
29124 Views|9 months ago