Maruti Suzuki, India's largest carmaker, has announced that it has now sold over 10 lakh cars and SUVs with automatic transmissions in the country. As such, the company claims it is India's leading automatic transmission car and SUV maker.
65 percent of automatic Marutis sold are AMTs
Nexa accounts for 58 percent of auto sales, 42 percent for Arena dealerships
ATs account for 15 percent of all sales in FY2024
Maruti Suzuki currently offers four different automatic gearboxes (AMT, 4-speed torque converter, 6-speed torque converter and e-CVT) across 16 models in their range. In terms of the spilt of automatic vehicle sales, the AMT accounts for 65 percent, the torque converters constitute 27 percent, while the e-CVT makes up the remaining 8 percent.
As for its retail channels, Maruti's premium Nexa chain of dealerships, which sells models like the Grand Vitara, Baleno and XL6, accounts for 58 percent of automatic sales, while the remaining 42 percent comes from the Arena dealerships, which retail the Alto K10, Wagon R, Swift, Brezza and others.
The most basic of Maruti's auto 'boxes is the 5-speed AMT, which does duty in the Alto K10, S-Presso, Celerio, Wagon R, Ignis, Swift, Dzire, Baleno and Fronx. The 4-speed torque converter automatic is used in the Ciaz and Jimny, while the newer, 6-speed unit can be found in the Fronx (turbo-petrol), Ertiga, XL6, Brezza and Grand Vitara. Finally, there are two models with an e-CVT gearbox – the Grand Vitara and Invicto – in the strong-hybrid variants.
The brand says it's seeing the most demand for automatic models in the Delhi and NCR region, Maharashtra, Tamil Nadu, Karnataka, Andhra Pradesh, Telangana and Kerala. Maruti has also stated that it is nearing one lakh sales (which is 15 percent of overall sales) for automatic cars in this financial year, and we're only about halfway through it. This is a clear sign of the market trend shifting towards automatic transmissions in India.
Also see:
Discounts of up to Rs 65,000 on Maruti Ignis, Baleno, Ciaz this October
Maruti eVX interior to be revealed at Tokyo Motor Show
Maruti Suzuki Cars
Maruti Suzuki Alto K 10
₹ 4.48 – 6.48 lakh
Maruti Suzuki Baleno
₹ 7.23 – 10.73 lakh
Maruti Suzuki Brezza
₹ 9.06 – 16.09 lakh
Maruti Suzuki Celerio
₹ 5.57 – 7.89 lakh
Maruti Suzuki Ciaz
₹ 9.42 – 12.97 lakh
Maruti Suzuki Dzire
₹ 6.54 – 9.97 lakh
Maruti Suzuki Eeco
₹ 4.28 – 5.52 lakh
Maruti Suzuki Ertiga
₹ 8.61 – 14.92 lakh
Maruti Suzuki Fronx
₹ 8.47 – 15.14 lakh
Maruti Suzuki Grand Vitara
₹ 12.22 – 22.66 lakh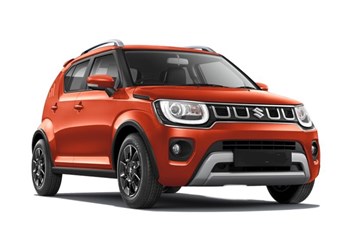 Maruti Suzuki Ignis
₹ 6.47 – 9.23 lakh
Maruti Suzuki Invicto
₹ 28.78 – 32.98 lakh
Maruti Suzuki Jimny
₹ 14.87 – 17.35 lakh
Maruti Suzuki New Celerio
NA
Maruti Suzuki New SUV
NA
Maruti Suzuki S-Cross petrol
NA
Maruti Suzuki S-Presso
₹ 4.24 – 6.28 lakh
Maruti Suzuki Swift
₹ 6.66 – 10.06 lakh
Maruti Suzuki Vitara Brezza facelift
NA
Maruti Suzuki Vitara Brezza petrol
NA
Maruti Suzuki Wagon R
₹ 4.98 – 6.60 lakh
Maruti Suzuki XL6
₹ 11.13 – 16.77 lakh